Just Bake Cookies - The Movie
Just Bake Cookies is an original coming-of-age drama written by Quinn Early and directed by Cameron Early.
The relationship between the movie's characters Quinton and Pops — is based on the relationship Quinn had with Cameron while raising him. Both working stuntmen, Quinn and Cameron have been able to share some great experiences together on the big screen; on movie projects including Bright, All Day and A Night, and The Tax Collector; as well as TV shows S.W.A.T. and Seal Team. They are ecstatic about the opportunity to collaborate on a project that hits so close to home.
A story about Quinton and his struggle to navigate his way from boyhood to manhood.
We meet Quinton in high school as he saves another kid from being bullied by violently beating the assailants. Quinton's grandfather, Pops, realizes he needs reinforcements to rein in his well-meaning but ultimately undisciplined grandson. He enrolls Quinton in a local martial arts school and through martial arts, Quinton finds himself. Fast forward a few years later: Quinton is now an MMA world champion; however, Pops has developed Alzheimer's disease. Though Quinton has faced many challenging obstacles in his young life, his grandfather';s illness may be the toughest yet.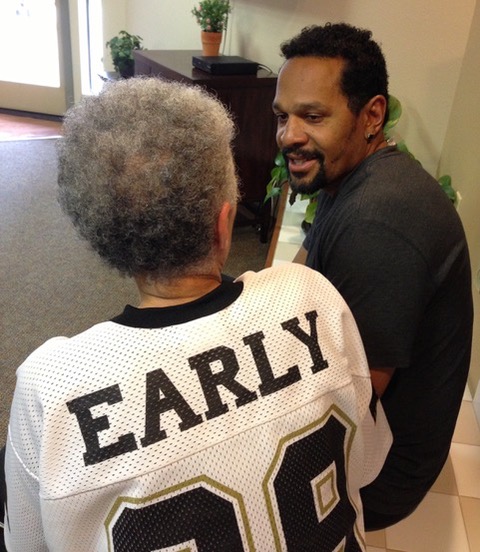 Fighting Alzheimer's
Just Bake Cookies will also be used as a vehicle to help raise money for the fight against Alzheimer's, the disease that took Quinn's mother's life. Ann Early was diagnosed with Alzheimer's in 2008 and passed away in 2013. Before her untimely death, Ann asked Quinn to have her book about their family history published. In 2018, Bryant Acres hit the shelves and has been an amazing success with all proceeds funding Alzheimer's research. Since her passing, Quinn has raised more than $25,000 dollars for the Alzheimer's Association.
Joey Box
This amazing project wouldn't be possible without producer and stunt coordinator Joey Box. Mr. Box has Been in the industry for more than 30 years as a Producer, Director, Stunt Coordinator, and Actor and has been instrumental in the development in such films as Oblivion, Star Trek and War of The Worlds.